August 5, 2023   |   10:00 AM – 4:00 PM
Come play at Glorieta's
Family Fun Day!
Glorieta Retreats invites you to Family Fun Day!
Once a year we open our gates and welcome all of our friends and neighbors from the local communities to come visit with us.
Enjoy a day filled with fun and adventure! 
10:00 AM – 4:00 PM
Save time and pre-register online
Want to get through the front gate quickly and onto the fun? Fill out waivers for yourself and your kids and submit them online or download them and bring them with you. You must fill out a waiver for each person attending Community Day.
Get the most out of Community Day with an Activity Pass. For just $25 / person (paid in advance) or $30 at the gate (cash only), you are guaranteed access to some of our guest's favorite adventure activities! 
Zip Drop, Via Feratta, BMX, Snow Tubing Hill
It's the cheapest fun you'll find anywhere near Glorieta, NM. Passes will be available for purchase by the lake. 
$15 early Registration Parking
To help encourage car pooling and pre-registration, we are charging $15/vehicle for parking. So grab a friend, or two, and come out to Glorieta for the day! Parking will be $20/vehicle at the gate (cash only) if not pre-purchased.
If you aren't interested in purchasing an Activity Pass, there are still many activities you can participate in for free!
Our waterfront, gaga ball pits, hiking trails, basketball courts, volleyball courts, disc golf course (bring your own discs), and mini golf course (balls available for purchase at $1 or you can bring your own), will all be open and free for you to use!
Bring a picnic or enjoy the food trucks!
Community Day is strictly free of alcohol and other drugs. Please refrain from bringing these items to this event.
When is it?
May 25, 2019 10am-4pm and August 10, 2019 10am-4pm
Where is Glorieta?
Our address is 11 State Route 50 Glorieta, NM. We are about 20 minutes from Santa Fe, right off I25 exit 299.
What should I expect?
Plan for the perfect Saturday, whatever that means to you! Whether hiking and exploring or picnicking and relaxing by the waterfront, we open campus to meet you and enjoy what you like doing on a day off. Upon arrival, you will enter the gates and check in, paying for parking, receiving a wristband and a camp map. From there, you will be directed to park and welcomed to explore camp. You will have the opportunity to participate in specific activities by purchasing a $10 activity pass. This allows you to go to the activities such as arbor climb, redneck paintball, archery tag, and others. There will be a camp snack shop and a few food trucks to visit if you so choose. In addition, the BME will be taking place that day on campus, so expect to see lots of bikers.
What should I bring?
Sunscreen

Swimsuit

Towel

Picnic blanket

A camera to capture all of the memories

Close-toed shoes for all activities

Spending money for snacks, parking, activity passes, and lunch
What activities are free?
Basketball

Volleyball

GaGa Ball

Field Games

Putt-Putt Golf

Disc Golf

Waterfront

Hiking
What activities come with an activity pass?
Arbor Climb

Redneck Paintball

Archery Tag

Via Ferrata (Cliff-face Obstacle Course)
What else should I know?
Parking is $5 per vehicle

Activity passes are $10 per person

Snacks are available for purchase

Food truck vendors include: Bang Bite, SoCal Mobile Coffee, and a pizza truck

Ensure your waiver is signed prior to arrival!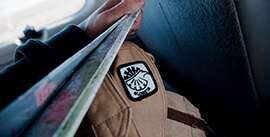 Getting To Camp
For directions, just plug this into your Maps app: 11 State Highway 50, Glorieta, NM 87535. For other ways to get to camp, click the "Learn More" button below.
Map
Food Trucks
Having fun sure works up an appetite. Fortunately, we have just the thing. Enjoy a variety of unique and specialty fare from several local vendors.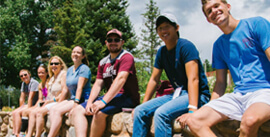 Code of Conduct
We're here to have fun, build each other up and encourage others in love! But there are a few behaviors that just won't fly at Glorieta Camps.
More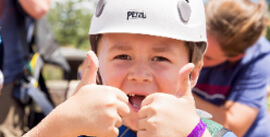 Health and Safety
The spiritual, physical, and emotional well being of every camper is our top priority. We're here to fulfill all their safety and nutritional needs.
More
Mini Golf
If putting around is your thing, we have the perfect way to pass an afternoon. This classic family sport is best under the pines, with a nice summer breeze.
Hiking
Thousands of acres and miles of trails through God's beautiful creation. Explore the trails and experience vistas that will take your breath away.
Ga-Ga Ball
Ga-ga wha? Trust us, it's not for babies. Part dodge ball, part tag and part king of the hill, it takes action to another level. Stay with it. Rule the octagon!
Sand Volleyball
Bring it on. Serve it up. Spike, slam, wham, attack - Let your competitive spirit take over. You'll need it. Dig, set, spin, spike! Leave the campfire for day's end.
Basketball
There's nothing better than a game of high altitude hoops. Pick up moves with other campers from around the country, or take 'em to school like you do at home.
Disc Golf
To heck with the clubs; grab a disk and join the fun. It's all in your swing... or is it the fling? This is the perfect place to test your skills at a high level.
Support Us
Four ways you can help