Ideal for: Kids!      |      Ages: 5 – 14      |      Dates: Weekly from May 27th – August 9th, 2019
Fun. Adventure. Learning. Friendship.
Available for our local kids all summer long!
Let 'em spend a day with us and they'll just want another.
You know the sort of things your kids always want to go do? Well, we've got them! And your kids will need more than a day to take in everything Glorieta Camps has to offer, but that's OK, we'd love to have them back day after day – all summer if they want.  Days spent here will be days to remember. Amazing days that leave kids with a smile and hungry for more adventure.
At Glorieta Day Camp, kids create lifelong memories as they encounter God's creation, God's word, and embark on the adventures and memories of a lifetime. Because they're able to go home at the end of the day, it's a great way to ease kids into the camp experience. New Friends. Real Adventures. God's Truth. Makes you wanna shout "Hallelujah"!
Bring a friend to Day Camp, who has never attended before, and you will receive $50 towards an 'Add On' of your choice (i.e. Squirrel Bag, Transportation, Activity Upgrade, etc).
To help make things convenient for parents, we offer shuttles to and from Glorieta from Santa Fe, Eldorado and Bernalillo. Find locations, pricing and drop-off/pick-up times.
Whitewater Rafting
*Whitewater rafting availability is limited for groups camps. Contact groups@glorieta.org to reserve spots. Additional Fee is $55 Per Person for families.
Tree House Challenge Course
Waterfront Tower
Our flagship feature is a 5 level treehouse. Take a drop down one of four super slides or have gallons of fun in any of our waterfront activities.
Bomb the Blob!
Climb. Leap! Plop! Launch! Whoa! Splash! Climb. Leap! Plop! Launch! Whoa! Splash! Repeat again and again until we wear 'em out.
Outdoor Rock Climbing
If you're a thrill seeker who'd like to feel a little "boulder", we accommodate all skill levels in many different climbing styles. For those about to rock, we salute you!
Drift Trikes
Fuzzy wristbands, Keds, and sliding sideways on a Big Wheel made for some serious street cred back in the day. Well, we've amped it up.
Bike Park
Okay, time to break out those tricks you spent hours on in the driveway. Bunny hop? Check. Wheelie? Yup. Bust out a few moves, and ride to glory.
Mountain Bikes
Hop on and go for a spin that will leave you breathless in more ways than one. When you experience a mountainside ride, you'll know what we mean.
Super Swing
Hey camper, camper. Hey camper, camper. Swing! Harness up and take a big leap of faith. Only at Glorieta can kids have this much fun in church.
Terrain Park
Take a chain-grinding, quad-shredding lap or two around our wicked dirt tracks, bust out a few of those moves you practiced, and soar to glory.
Arrow TAG
We are hunters, and adventure is our game. We are unstoppable, and you are our prey. Take aim and bring 'em down. Before they get you!
Mud Pit Melee
Grit your teeth for an untethered free-for-all. Here's mud in your eye... and between your toes... and behind your ears..
Games of Skill... Or Not.
It doesn't matter if you are "super coordinated" or not; you'll still have massive fun in our crazy games. A good time will be had by all... or else!
Whitewater Rafting
"Row! Row! Row! You lazy land lubbers! Heave ho and off we go! Steady as she goes." Will somebody smack that guide with a paddle?
Crate Stacking
You've never stacked anything like this. Ever. It takes nerve, balance and a lot of patience to build a tower this high. Stand on top without tumbling for the win.
Slingshots
These are no toys, but they are a lot of fun. We may not be slaying giants, but you will get good target practice. Take aim. Hold your breath. Steady. And...
Mini Golf
If putting around is your thing, we have the perfect way to pass an afternoon. This classic family sport is best under the pines, with a nice summer breeze.
Hiking
Thousands of acres and miles of trails through God's beautiful creation. Explore the trails and experience vistas that will take your breath away.
Climbing Grotto
Test your grip and your core strength on our Swiss army knife of climbing sweetness. This tower can test and inspire almost any level of climber.
Field Games
Guaranteed to break the ice. This is camp-olympics! From scavenger hunts to more inventive contests, you're sure to make a few new friends along the way.
Arts & Crafts
You'll leave with tan lines from all the beaded bracelets you've made and traded with your new besties. Get ready for paint under your nails and a bunch of souvenirs.
Ga-Ga Ball
Ga-ga wha? Trust us, it's not for babies. Part dodge ball, part tag and part king of the hill, it takes action to another level. Stay with it. Rule the octagon!
Dodgeball
There's nothing like the unmistakable tread of a new red dodgeball. It provides good grip. And a recognizable pattern on the side of your face. Respect the ball!
Obstacle Course
There's no easing into this, so jump right in! From there, you're climbing through our bouncy crash course. You'll love ducking, diving, and dodging to the end.
Sand Volleyball
Bring it on. Serve it up. Spike, slam, wham, attack - Let your competitive spirit take over. You'll need it. Dig, set, spin, spike! Leave the campfire for day's end.
Basketball
There's nothing better than a game of high altitude hoops. Pick up moves with other campers from around the country, or take 'em to school like you do at home.
Coffee Shop
There's no fancy mermaid on these cups. This is real grounds for sittin' and sippin', Lower Rockies style. Order up, bust out the board games and let's chat.
Firehouse
We've taken the old Glorieta Firehouse and transformed it into the ultimate hangout. Part camp store, part coffee shop, part arcade and impromptu concert hall.
Bouldering Blocks
Brand new to rock climbing? These colorful blocks are just right for learning the basics and getting the 'hang' of climbing without getting too far off the ground.
Redneck Paintball
Think paintball with slingshots. Don't let the name fool you, your neck is well protected. Your pride, however, is not. Think fast! They come at you from all sides.
Zip Tour
Our dual line tour features FIVE sections of fast-moving zip lines stretched high above the alpine floor. Each section give you a different experience. Bring a friend!
Zip Drop
This is like a normal zip line, only a little more loosy-goosey, with special tethers that let you drift to the ground like a parachuter coming in for a landing.
Tree Rappelling
What's better than the view of the forest from the treetops? The trip back down of course. This is why ropes go with trees like campfires go with singalongs.
Treehouse Challenge Course
Quietly nestled in the pines is a diabolical treehouse designed to test both your mental and physical abilities. Only the best problem solvers will prevail!
Waterfront Decks
Water you waiting for? Take a dip and a drop from any one of our numerous decks rigged with ropes, slides, blobs and more. Look out below, and bombs away!
Indoor Superswing
Hey camper, camper. Hey camper, camper. Swing! Harness up and take a big leap of faith. Only at Glorieta can kids have this much fun in church.
Inflatables
We're not just full of hot air when we say, "If it inflates, it's great!" Bounce through our collection of endless obstacles and feel your excitement balloon.
Arbor Climb
Do you love the woods? Well, harness up, because you're about to get closer to nature than ever before. This is tree climbing brought to another level.
Disc Golf
To heck with the clubs; grab a disk and join the fun. It's all in your swing... or is it the fling? This is the perfect place to test your skills at a high level.
Adventure Upgrades are a way for us to keep the cost of camp low for everyone while also offering extra adventures to those who want them. We offer one package for Day Camp: "Whitewater Rafting Trip". See details below and if you would like to add it, just be sure and choose the option during the Sign Up process.
WHITEWATER RAFTING
It's like navigating a torrent of liquid adrenaline while being yelled at to paddle harder, faster, this way and that – or else – you're going swimming involuntarily. Suddenly the reason for the helmets and life jackets becomes crystal clear to you. This couldn't be more fun!To add this to your camp experience, choose this option during the Sign Up process.
Additional Fee – $55 Per Person
2018 SUMMER FOCUS
SHIPWRECKED
Sunk in sin, salvaged by Jesus.
A thematic journey designed to push teens toward putting their identity fully in Christ.
Camp Features
Some of the things that make Glorieta such a special place.
Lunch – Yumm! We're Hungry!
Depart for Home. Savor the Day.
"Erica has had a calendar made crossing off days these last couple of months until camp. Last week she said, 'I just want it to be Monday!'"  Erica also told her mom that she knows God changes her here.
"Excellent experience. We are non-Christian belief system in both of their homes (mom's house and dad's house separate), and feel that this is very positive exposure for Lauren and Brooke, so that they may choose faith path that resonates with them. It provokes deeper...
Staff
Enthusiastic. Energetic. Inspiring. And SUPER Fun.
Our staff is made up of a bunch of really fun, friendly people who are also super serious about providing you with the best camp experience ever. Each day they demonstrate their passion for serving Jesus Christ through leading by example and with a cheerful demeanor.
Our staff members are recruited based on their:

Getting ready for camp.
Here's your field guide for ultimate Day Camp preparedness.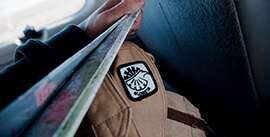 Getting To Camp
Glorieta is located at 11 State Highway 50, Glorieta, NM 87535. For directions click the "MAP" button below.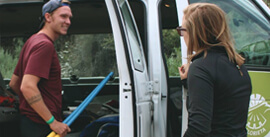 Arrival & Departure
We can't wait to welcome you to camp! Choose a camp for times, and a few pointers to make drop-off and pick-up smoother.
Rides to Camp
To help make things convenient for parents, we offer shuttles to and from camp. Find locations, pricing and drop-off/pick-up times.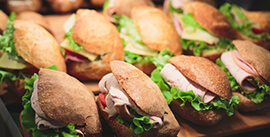 Meals
We are very active at camp and provide all campers with a healthy meal during lunch hour. Lunch and a snack are included in your camp fees.
Bring a Friend
Bring a friend to Day Camp, who has never attended before, and you will receive $50 towards an 'Add On' of your choice (i.e. Squirrel Bag, Transportation, Activity Upgrade, etc).
| Day Camp | Length | Dates | Rates | Available Rides ($/camper) | Status | Register |
| --- | --- | --- | --- | --- | --- | --- |
| Session 1 | 5-Day | May 28-June 1, 2018 | $180/camper | Santa Fe ($50), Eldorado ($30) | COMPLETE | ----------- |
| Session 2 | 5-Day | June 4-8, 2018 | $180/camper | Santa Fe ($50), Eldorado ($30) | COMPLETE | ----------- |
| Session 3 | 5-Day | June 11-15, 2018 | $180/camper | Santa Fe ($50), Eldorado ($30) | COMPLETE | ----------- |
| Session 4 | 5-Day | June 18-22, 2018 | $180/camper | All (Santa Fe-$50, Eldorado-$30, Bernalillo-$60) | COMPLETE | ----------- |
| Session 5 | 5-Day | June 25-29, 2018 | $180/camper | Santa Fe ($50), Eldorado ($30) | COMPLETE | ----------- |
| Session 6 | 5-Day | July 9-13, 2018 | $180/camper | All (Santa Fe-$50, Eldorado-$30, Bernalillo-$60) | COMPLETE | ----------- |
| Session 7 | 5-Day | July 16-20, 2018 | $180/camper | Santa Fe ($50), Eldorado ($30) | COMPLETE | ----------- |
| Session 8 | 5-Day | July 23-27, 2018 | $180/camper | Santa Fe ($50), Eldorado ($30) | COMPLETE | ----------- |
| Session 9 | 5-Day | July 30-August 3, 2018 | $180/camper | Santa Fe ($50), Eldorado ($30) | COMPLETE | ----------- |
| Session 10 | 5-Day | August 6-10, 2018 | $180/camper | Santa Fe ($50), Eldorado ($30) | COMPLETE | ----------- |
Rides to Camp
Parents can meet our staff at the following locations for Rides to Camp. All times are subject to change. Cost is in addition to normal Day Camp fees. All registration and payments must be completed before the child's week of camp. No refunds will be available. For any questions regarding Day Camp or registration please contact:
Josh Nelson: Email  |  505-757-6161 Ext. 6
Payment Policy
Prices are the same for group leaders and campers
Full payment is preferred at the time of registration
A payment plan is available as follows:

Initial Deposit of $100 per person is due at time of registration.
Second Payment of 50% of your account balance is due 60 days prior to your camp or retreat.
Final Payment of the remaining account balance is due 7 days prior to opening day of your camp or retreat.

Please only register for the number of campers you are confident will attend. You can always add more campers later if space is available.
ALL PAYMENTS MADE ARE NON-REFUNDABLE for reservations abandoned with no advance notice.
Reservations canceled with advance notice will still require partial payment based on the schedule shown below:

2 Months Prior – 50% Cancellation Fee
1 Months Prior – 60% Cancellation Fee
3 Weeks Prior – 70% Cancellation Fee
1 Week Prior – 90% Cancellation Fee
If you have questions please contact josh.nelson@glorieta.org
Support Us
Four ways you can help