Ideal for: Kids!      |      Ages: 6 – 13      |      Dates: June 3rd – July 26th, 2024
Fun. Adventure. Learning. Friendship.
Available for our local kids for a limited time this summer!
Have them spend a day with us and they'll want to come back!
You know the sort of things your kids always want to go do? Well, we've got them! And your kids will need more than a day to take in everything Glorieta Camps has to offer. Fortunately, we love to have them back day after day – all summer long, if you want.  Days spent here will be days to remember for the rest of their life.
At Glorieta Day Camp, kids create lifelong memories as they encounter God's creation, God's word, and embark on the adventures and memories of a lifetime. Because they're able to go home at the end of the day, it's a great way to ease kids into the camp experience. New Friends. Real Adventures. God's Truth. We can't wait to meet your child and introduce them to the wonder of camp!
Rock Climbing
If you're a thrill seeker who'd like to feel a little "boulder", we accommodate all skill levels in many different climbing styles.
Archery Tag
Equipped with padded arrows and bow on an extensive wooded course full of secret hide-outs, bring your opponents down in a classic game of TAG and many other competitions!
Drift Trikes
Sliding sideways on a Big Wheel made for some serious street cred back in the day. Well, we've amped it up.
Mud Pit
Grit your teeth for an untethered free-for-all. Here's mud in your eye... and between your toes... and behind your ears.
Redneck Paintball
Think paintball with slingshots. Don't let the name fool you, your neck is well protected. Your pride, however, is not. Think fast! They come at you from all sides.
Super Swing
With full-body harnesses and an entire team required to run this swing, there's a reason we call it "super!"
Terrain Park
Whether you're a newbie or a BMX pro, a lap around our berms and jumps is sure to give you an adrenaline rush.
Crate Stacking
It turns out, a pile of milk crates can be quite the challenge! It takes balance, focus, and strategy to build as you climb higher and higher. Bet you can't make it to 20.
Slingshots
These are no toys, but they are a lot of fun. We may not be slaying giants, but you will get good target practice.
Mini Golf
If putting around is your thing, we have the perfect way to pass an afternoon. This classic family sport is best under the pines, with a nice summer breeze.
Field Games
Guaranteed to break the ice. This is camp-olympics! From scavenger hunts to more inventive contests, you're sure to make a few new friends along the way.
Ga-Ga Ball
Ga-ga wha? Part dodge ball, part tag and part King of the Hill, it takes action to another level. Rule the octagon!
Blacklight Dodgeball
Variations on the classic game, kicked up a notch. From free-for-alls to zombie matches, dodgeball under the glow of these lights can be trickier than you think.
Arbor Climb
Tree climbing on a whole different level.
Wilderness Hiking
From short hikes with a view, to longer journeys winding through National Forest trails, adventure is out here!
Arts & Crafts
From pine-cone pets to classic friendship bracelets, creativity of all forms are welcome here!
Sand Volleyball
For classic games of 2-on-2 to 50-player Nuke 'Em, we have sandy courts for everyone to enjoy!
Foam Pit
Hundreds of foam blocks to jump into, dive through, and hide in!
Sports Courts
There's nothing better than a game of high altitude hoops. Or how about a match of mountain tennis? This is the place!
Bouldering Blocks
Brand new to rock climbing? These colorful blocks are just right for learning the basics and getting the 'hang' of climbing without getting too far off the ground.
Gypsy Wagon
This colorful little wagon is a mobile store loaded with treats, t-shirts, and other knick-knacks!
Waterfront Decks
Decks rigged with rope swings, water zip lines, monkey bars, water slides, and more! We've got plenty to keep you busy staying cool in our Waterfront.
Inflatables
From epic Wipeout-style obstacles to King of the Hill with a wrecking ball, we've got all the classic inflatables along with some you've never seen!
Adventure Upgrades are a way for us to keep the cost of camp low for everyone while also offering extra adventures to those who want them. We offer one package for Day Camp: "Whitewater Rafting Trip". See details below and if you would like to add it, just be sure and choose the option during the Sign Up process.
WHITEWATER RAFTING
It's like navigating a torrent of liquid adrenaline while being yelled at to paddle harder, faster, this way and that – or else – you're going swimming involuntarily. Suddenly the reason for the helmets and life jackets becomes crystal clear to you. This couldn't be more fun!To add this to your camp experience, choose this option during the Sign Up process.
Additional Fee – $55 Per Person
Getting ready for camp.
Here's your field guide for ultimate Day Camp preparedness.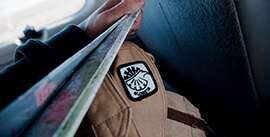 Getting To Camp
Glorieta is located at 11 State Highway 50, Glorieta, NM 87535. For directions click the "MAP" button below.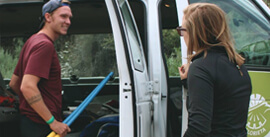 Arrival & Departure
We can't wait to welcome you to camp! We are making some changes to pick-up and drop-off this year due to be more COVID-19 friendly. Stay tuned for more information.
Rides to Camp
To help make things convenient for parents, we offer shuttles to and from camp. Find locations, pricing and drop-off/pick-up times.  *Santa Fe and El Dorado shuttles are available all 8 weeks but ABQ is only available last 4 weeks.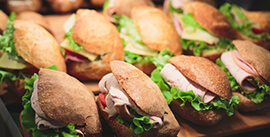 Meals
We are very active at camp and provide all campers with a healthy meal during lunch hour. Lunch and a snack are included in your camp fees. Gluten-free meals are available for purchase through your registration account for $3 per person per meal.
Staff
Enthusiastic. Energetic. Inspiring. And SUPER Fun.
Our staff is made up of a bunch of really fun, friendly people who are also super serious about providing you with the best camp experience ever. Each day they demonstrate their passion for serving Jesus Christ through leading by example and with a cheerful demeanor.
Our staff members are recruited based on their:
Passion for Teaching Youth

Scholarships
Scholarships are available for Summer 2023! Please fill out an online application and the Day Camp Manager will reach out to you about your application status.  Paper scholarships are no longer available and will not be accepted. The deadline to submit an application is May 1st, 2023.  Any applications submitted after that date will not be considered.
Hybrid Week
If you have a 14 or 15 year old, they can join us for our first ever Hybrid Week!  With a combination of camp fun, leadership opportunities and community service, it's the perfect mix for your teen this summer.  Click the button below for more information!
Day Camp Upcoming Events
Come join us for some Day Camp fun outside of summer!
Payment Policy
Full payment is preferred at the time of registration
The following payment plans are available (all payments due prior to week of camp):

Full Payment upon Registration.
Monthly Payments until Balance is paid in full.
Three Even Payments until Balance is paid in full.
ALL PAYMENTS MADE ARE NON-REFUNDABLE

for reservations abandoned with no advance notice

.
Anything cancelled more than a month out is full refund
1 month out there is a 50% cancellation fee
3 weeks out is a 60% cancellation fee
1 week is a 90% cancellation fee
Support Us
Four ways you can help