Ideal for: School Groups, Youth Groups, Class Trips       |       Grades: K – College       |       Dates: August – May
CHOOSE YOUR SCHOOL'S ADVENTURE
Live it. Touch it. Experience it to the utmost.
Give your students an experience they'll talk about long after they've graduated. Our Rocky Mountain campus of New Mexico is the perfect place to enhance students' educational experience through experiential learning. Our customizable school retreats are built around exploration and reflection that transcends the classroom and goes way beyond book learning. Because no journey carries us far unless it extends into the world around us and goes an equal distance within. Connect with us today to learn how experiential learning can benefit your school retreat agenda and bridge that gap between students, teachers and the best of themselves.
ROAD MAP TO LASTING IMPACT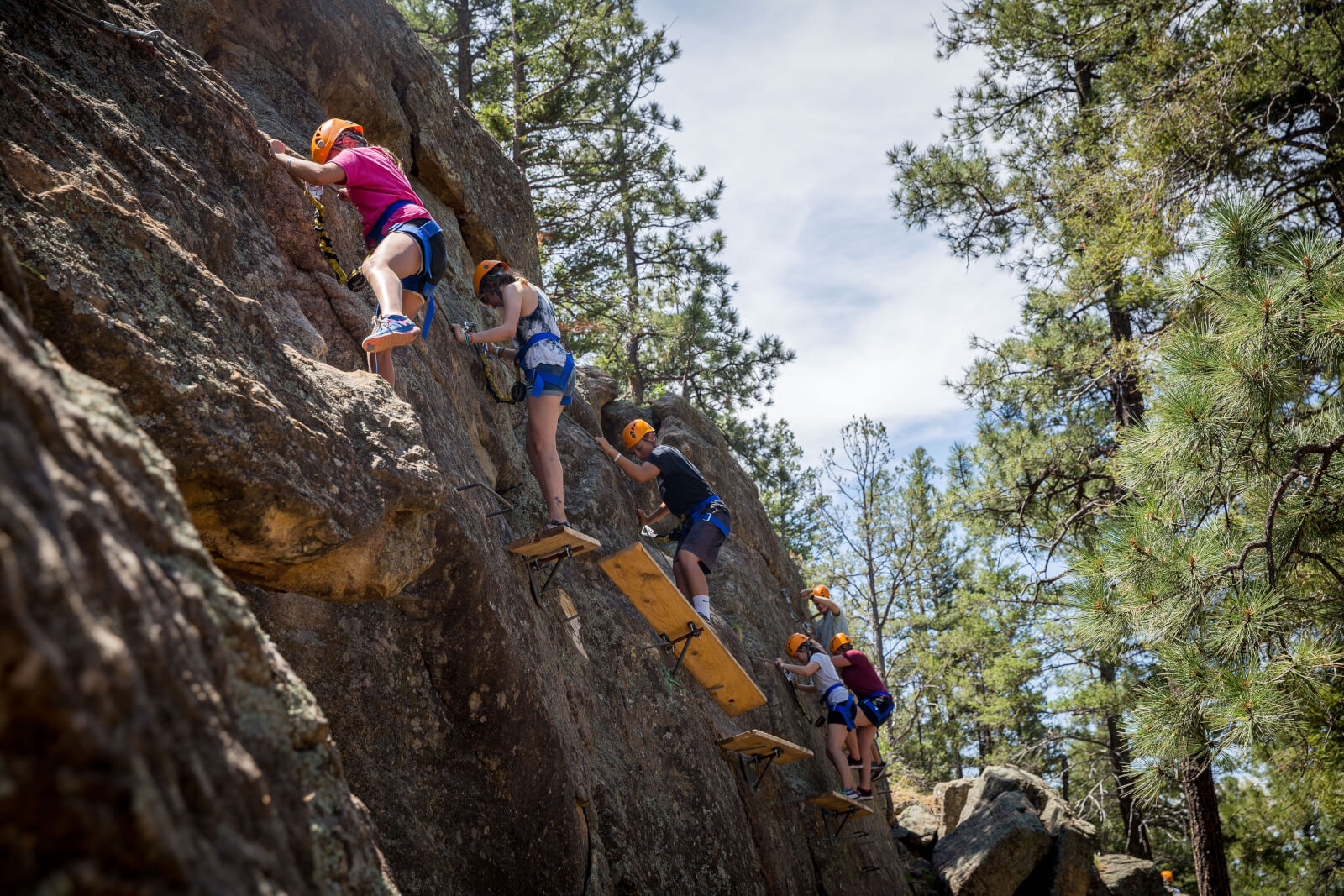 Our Schools Program, is really, YOUR program – crafted to pinpoint and address unique opportunities for growth in your school. You can expect 3 to 4 days of positive shared experiences, filled with exciting, high-adventure activities and targeted dynamic development, presented in ways that resonate with all ages.
Developing healthy student-to-student and student-to-staff relationships is key to providing a positive educational journey for each person in your school. By investing in relationships, you're likely to notice a decrease in physical and digital bullying, and an increase in trust and collaboration among students and staff alike. And what better way is there to create camaraderie, than through the thrill of adventure.
When teachers make authentic appropriate connections with students outside of the classroom setting, retention improves and positive social outcomes are seen. At Glorieta Adventure Camps, we've got the time and space carved out, to help you make these types of connections. Our Schools Program will help you kick-start the year, the semester, or just this grading period, with moments that motivate and keep your students engaged.
Everywhere you look, culture is being formed. Whether it's healthy or unhealthy, that's up to you! But first, you have to take an active approach. By seeking out healthy shared experience, you'll take the helm and chart a positive direction in your school's culture. Our Schools Program can be the starting place for the changes you desire for your school. If a positive culture is thriving, everyone wins.
Experiential learning is really hands-on learning, with all hands on deck. From guided mountain hikes to high-adventure elements such as zip lines and rock climbing, your students and staff will encounter learning opportunities every step of the way. Through teamwork, calculated risk-taking, and times of rest, everyone will recognize the joy that's found in learning by doing.
We don't need to tell your school's leaders how to make a difference in the lives of their students – we know they're doing this already, every day! Simply put, the Schools Program at Glorieta Adventure Camps is a road map to lasting impact. We're ready to partner with you, to give your students and staff the stories they'll share for years to come.
Your school retreat can be custom tailored to meet the needs of your students and faculty. Your time together with Glorieta will allow your teachers and students to connect and grow together through the model of experiential learning and challenge by choice philosophy.
Whitewater Rafting
*Whitewater rafting availability is limited. Contact groups@glorieta.org to reserve spots. Additional Fee is $55 Per Person.
Rock Climbing
If you're a thrill seeker who'd like to feel a little "boulder", we accommodate all skill levels in many different climbing styles. For those about to rock, we salute you!
Wilderness Hiking
From short hikes with a view, to longer journeys winding through National Forest trails, adventure is out here!
Archery Tag
Equipped with padded arrows and bow on an extensive wooded course full of secret hide-outs, bring your opponents down in a classic game of TAG and many other competitions!
Drift Trikes
Sliding sideways on a Big Wheel made for some serious street cred back in the day. Well, we've amped it up.
Redneck Paintball
Think paintball with slingshots. Don't let the name fool you, your neck is well protected. Your pride, however, is not. Think fast! They come at you from all sides.
Mountain Bikes
Hop on and go for a spin that will leave you breathless in more ways than one. When you experience a mountainside ride, you'll know what we mean.
Super Swing
With full-body harnesses and an entire team required to run this swing, there's a reason we call it "super!"
Terrain Park
Whether you're a newbie or a BMX pro, a lap around our berms and jumps is sure to give you an adrenaline rush.
Mario Kart
Mario Kart is a series of go-kart-style racing video games developed and published by Nintendo as spin-offs from its trademark Super Mario series.
Whitewater Rafting
Wanting to really kick your adventurous spirit into gear?! We partner with New Mexico River Adventures to offer a rafting experience you won't soon forget.
Crate Stacking
It turns out, a pile of milk crates can be quite the challenge! It takes balance, focus, and strategy to build as you climb higher and higher. Bet you can't make it to 20.
Via Ferrata
Challenge yourself to traverse "the Iron Way"- where mountaineering meets obstacle course.
The Blob!
Partner up and send your friend sailing through the air by jumping onto this giant inflatable pillow at our Waterfront!
Slingshots
These are no toys, but they are a lot of fun. We may not be slaying giants, but you will get good target practice.
Mountain Scooters
Ever thought to put mountain bike tires on a Razor scooter? Hop on for a ride you won't soon forget!
Mini Golf
If putting around is your thing, we have the perfect way to pass an afternoon. This classic family sport is best under the pines, with a nice summer breeze.
Ga-Ga Ball
Ga-ga wha? Part dodge ball, part tag and part King of the Hill, it takes action to another level. Rule the octagon!
Blacklight Dodgeball
Variations on the classic game, kicked up a notch. From free-for-alls to zombie matches, dodgeball under the glow of these lights can be trickier than you think.
Arbor Climb
Tree climbing on a whole different level.
Drift Ball
It's like a cross between basketball, soccer, hockey, polo and demolition derby on our awesome drift trikes. Hard to explain. Amazing to play.
Obstacle Course
Inflatables meet Waterfront. A combination that makes for quite the slippery match!
Sand Volleyball
For classic games of 2-on-2 to 50-player Nuke 'Em, we have sandy courts for everyone to enjoy!
Rappelling
Your heart pounds as you overcome your nerves and step off the cliff. What were you thinking? Total focus. Step by step. Now you're down, confident. Again!
Sports Courts
There's nothing better than a game of high altitude hoops. Or how about a match of mountain tennis? This is the place!
Bouldering Blocks
Brand new to rock climbing? These colorful blocks are just right for learning the basics and getting the 'hang' of climbing without getting too far off the ground.
Gypsy Wagon
This colorful little wagon is a mobile store loaded with treats, t-shirts, and other knick-knacks!
Hang Time
There are plenty of places around camp to relax. Stake a claim in our hammock village for the best way to enjoy the mountain breeze.
Waterfront Decks
Decks rigged with rope swings, water zip lines, monkey bars, water slides, and more! We've got plenty to keep you busy staying cool in our Waterfront.
Inflatables
From epic Wipeout-style obstacles to King of the Hill with a wrecking ball, we've got all the classic inflatables along with some you've never seen!
Coffee Shop
A place for a rejuvenating cup o' joe, quality conversations, board games, and kicking your feet up.
Disc Golf
An 18-hole course that spans our entire main campus, this is the perfect place to test your disc golf skills! It's all in your swing... or is it the fling?
Campouts
Gather round the campfire on cool evenings and sleep under the Milky Way to really experience the wilderness of camp!